8.15.2010 | 0 Comments
By displaying this badge, I am helping to offset 122,500 lbs of CO2 — that's like turning off 38,000 light bulbs for a day!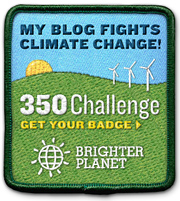 You can get your own badge here or do your own small part by turning off your lights an hour earlier tonight. What to do in the dark, you ask? Well, here are some ideas…
indulge in a sensual massage
reminisce about your life before marriage/career/kids
go outside, lie on a blanket, and look up at the stars
light a fire and have a glass of wine
take a bubble bath
get out a flashlight and see your partner's body in a new way
tell each other stories — funny, sad, erotic, fact or fiction
ask a question you've been hesitant to pose
put on some music and slow dance
have sex somewhere other than the bedroom
or… sleep! Sleep is good too.